Ocean Vet Premier
Ocean Vet Premier see's attendees party the night away, Neil Burnie style!
On the 18th of March 2016 Barrs Bay Park (Hamilton, Bermuda) played host to the Ocean Vet Premier. A huge amount of work from all involved ensured it would be a night to remember. Local news provided coverage of the event as final preparations came together.

A night to remember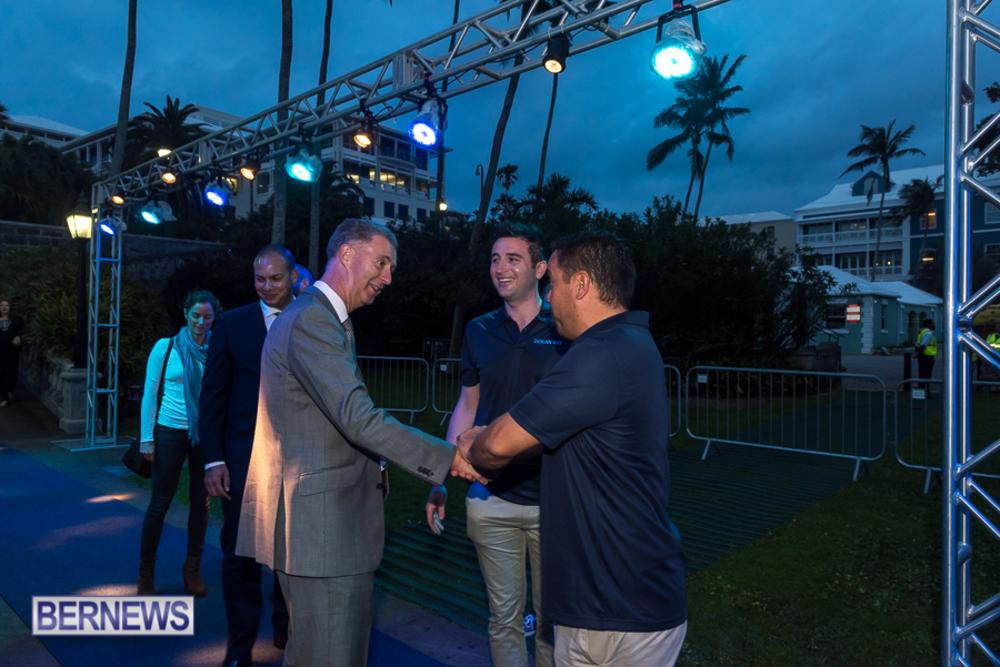 Those lucky enough to get a ticket (the event sold out in under 2 hours!) were invited to "Step into the Blue" as attendees were transported into an oceanic world.
The event was attended by His Excellency The Honourable George Ferguson (Governor of Bermuda.) Series producer Andrew Smith introduces His Excellency The Honourable George Ferguson to Ocean Vet marine biologist Choy Aming. The Governor delivered a speech that recognised the importance of Ocean Vet to Bermuda, and paid tribute to Neil Burnie's amazing character.
The main event was an exclusive screening of the Ocean Vet Diaries episode. The episode was introduced by series narrator and academy award winning actor and producer, Michael Douglas.
His contribution to the series was pivotal in ensuring it's completion after Neil's tragic death.
A tribute to Bermuda
"
It's amazing to be back in Bermuda hosting our premier here. There is absolutely no where else in the world more appropriate. All of the Bermudians that helped put this event together have done a spectacular job, I can't thank them enough. Everyone is having a great time, it's just a shame Neil isn't here in person to deafen us with his saxophone and harmonica - Andrew Smith, Series Producer
"
Those familiar with the project know it's presenter well, one of Bermudas late great personalities Dr Neil Burnie. The event paid tribute to Neil's amazing contribution to the series and his passion for all the marine animals he helped throughout its creation. Although the series was produced by the UK's gassProductions, the vast majority of those involved in production were Bermudian. It's only fitting the first people in the world to watch Ocean Vet were Bermudians. After screening the exclusive "Diaries" episode all attendees were invited to party the night away.
---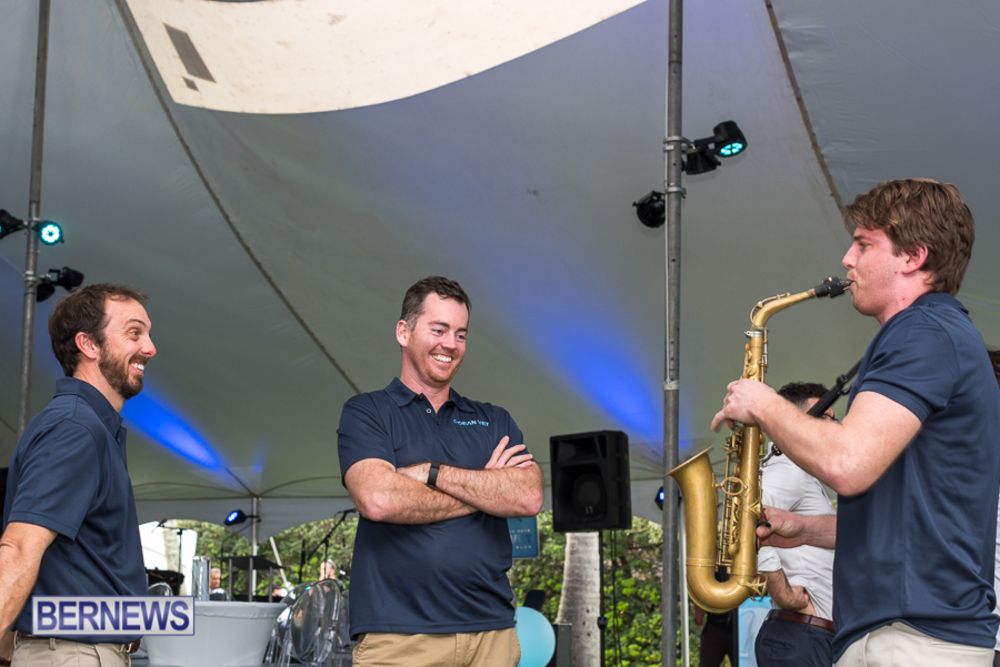 Neil's step son Oscar Deuss provided exceptional musical talent on the saxophone. He was accompanied by a host of local musicians who jammed together well into the early hours. Screens encircling the venue ensured all who attended saw the finished episodes. Celebrating Ocean Vet, Neil Burnie style it was a fitting tribute to Neil's character, and an emotional night for many that attended. Several cocktails had been designed for the event by Bermuda's very own Stefan Gitschner and Somers Carr from Twisted Spoon. These included the "Burnie Collins", "Cha-Ching Aming", "Saxomonica" and "Swizzle Shark." All went down a little too well.
Special thanks to
"
This is exactly how Neil would have wanted it. All of his friends, family and fellow Bermudians celebrating Ocean Vet the Bermudian way - music, drink, good food, good company and plenty of dancing - Choy Aming, Co-Presenter, Colleague & Friend
"
The premier was a huge success. The reaction to the episodes was phenomenal and attracted huge praise from all that attended. Special praise must be given to Lynda Johnson from BAMZ (Bermuda Aquarium Museum and Zoo.) Lynda and her team's commitment to the event was incredible. Their passion and organisation ensured it will be an event long remembered in Bermuda. Lynda is undoubtedly the Ocean Vet mum!
The Ocean Vet premier WOULD NOT have been possible without the following people.
Lynda's amazing event planning team
Darlene Fortin
Jillian Patterson
Selange Gitschner
Joanne Chisnall
Michelle Smith
also our vendors and their staff who provided outstanding service!
Corporation of Hamilton - Vicki Abraham and Otis
Buzz Catering – Jason Berwick, Alan O'Beirne
Great Sounds & Lighting – Barry Fitzsimmons
Undercover Tent Rentals – Mark Bell
Class Act Designs – Donna Lindo
Planning Factory
Twisted Spoon – Stefan Gitschner and Somers Carr
Burrows Lightbourn – Michael Robinson
Fairmont Southampton – ice sculpture
Photographer – Chris Burville
Bermuda Sanitation
Security Associates – Anthony Outerbridge
The amazingly talented musicians!
David Skinner
Derek Moniz
John Woolridge
Graham Pewter
Leroy Richardson
Milton Raposo
Jeff Marshall
Robert 'Sai' Emery
Erwin Leader
Tony Brannon
Gavin Smith
Cullen O'Hara
The investors without whom Ocean Vet would not have been possible.
Atlantic Conservation Partnership
Hiscox
PartnerRe
Jim & Spencer Butterfield – Butterfield Vallis
Henrik Schroder
James and David Gibbons
Choy Aming
The BZS Volunteers who worked tirelessly throughout the evening

The Ocean Vet crew
Michael Douglas – Narrator
Andy Smith – Co-writer/director
Dan Radford – Co-writer/director
Choy Aming – Marine biologist
Dylan Ward – Boat captain/Stickman
Andrew Kirkpatrick – Underwater cameraman
Oscar Deuss – Stickman
Chris Flook "Flookie" - Ocean whisperer
Johnny Singleton - Drone pilot
John Manderson - Photographer/Drone pilot
 
And last but by NO MEANS least...

Dr Neil Burnie - The Ocean Vet Where can we watch Ocean Vet?
For Bermudians, each episode will be screened a number of times over the next few months at the BUEI. For tickets and show times please visit the BUEI website. For the rest of the world, Ocean Vet has sold in multiple European, African and Asian territories. The series is also being reviewed by several major US broadcasters. Once broadcast channels and times are confirmed we will publish all info on the Ocean Vet Facebook page and our website.