The Restoration of HMS Belfast
"
Working with gassProductions was a breath of fresh air. The team pulled everything together in such a short space of time. They thoroughly understood who we are and what we were trying to achieve, and the level of detail they provided to ensure we understood what the end film would look like was incredibly beneficial. Jotun is delighted with the final film, and we can't thank gassProductions enough for capturing this opportunity and making it all seem so simple. They are a talented bunch of people with service at the heart of everything they do. Tonje Hvalvik
Jotun Marketing Executive - UK & Ireland Performance Coatings & Decorative Paints
"
Jotun is a Norwegian multinational chemicals company dealing mainly in decorative paints and performance coatings. They specialise in protecting marine assets and iconic global landmarks. As of December 2019, the company had a presence in more than 100 countries worldwide, with more than 10,000 employees, 63 companies in 45 countries, and 37 production facilities in 21 countries.
"This was an exciting project with a very tight three weak deadline. We had an amazing opportunity to film the last remaining second World War Town-class Cruiser in Europe during its complete restoration" Andrew Smith - Producer.
Jotun donated tens of thousands of pounds of paint to the Imperial War Museum to assist with the restoration, and consequently, this was the focus of the story. There were three weeks to prepare for the shoot and only one date to film. If the weather was terrible on the shoot day, the shoot was to be cancelled. gassProductions quickly engaged with Jotun and The Knot Agency, a marketing company specialising in marine to arrange the production. The necessary interviews were quickly arranged with the Imperial War Museum, the painting contractors and of course, Jotun.
"One essential element was the drone footage. Obtaining permission to fly drones in the City of London is a particular challenge. We needed approval from the London Port Authority and NATS, who ultimately control the skies, and The London Bridge City Estate, and some security agencies. Each party needed detailed flight plans, in-depth risk assessments, insurance details and a host of other documentation." Josh Van Hagen - Senior Film Maker.
Two days before the shoot, the team received approval from all the authorities, and the shoot was set. The only thing standing in the productions was the weather!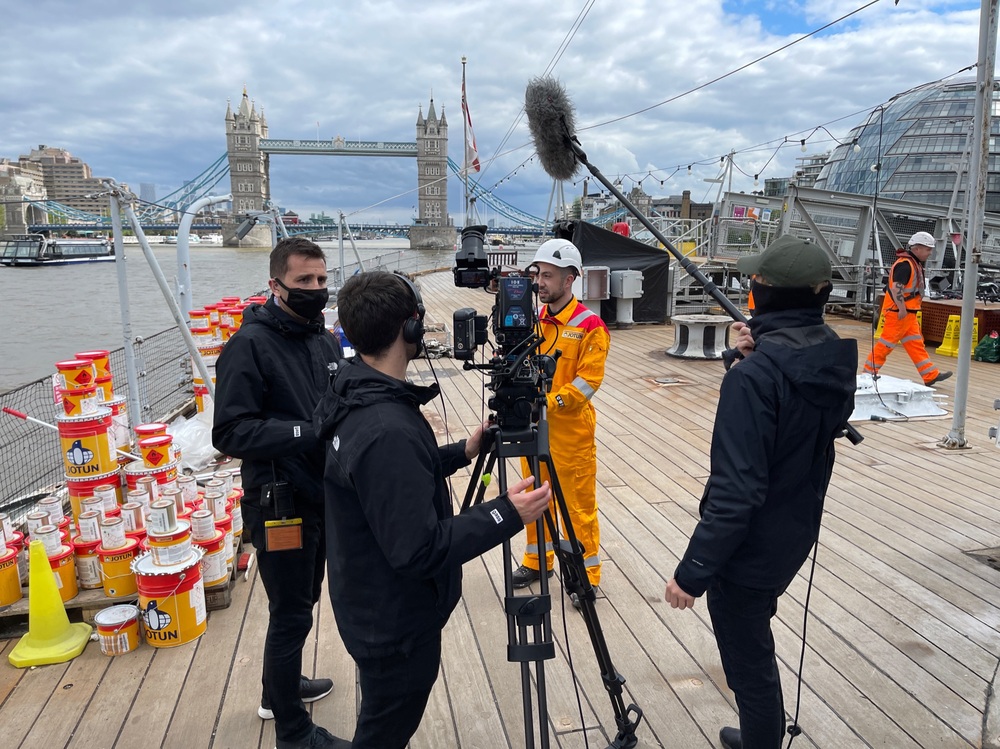 Luckily, the weather held off. Three teams operated during the day. One crew focused on capturing the restoration work. The second crew filmed the interviews, and the third crew were in charge of all the drone operations.
"It was a genuine pleasure to work with Jotun and the Imperial War Museum and to have helped document the restoration of an iconic second world war battleship. Everyone at gassProductions looks forward to working with Jotun in the future." Director - Dan Radford.
If you'd like to talk to us about a project you can contact Andy on + 44 (0) 844 736 5768
Request a meeting